Hi all, its been a very long day today but i am delighted to report that the event was a resounding success!! we had a record attendance with almost 90 people cramming into the hall and enjoying a wonderful and freindly atmosphere. Seats were in short supply and it was jam packed in the lodge pool hall, despite this everyone was comfortable, happy and glowing with praise for the enjoyable day out..
Just part of the crowd at the BCA convention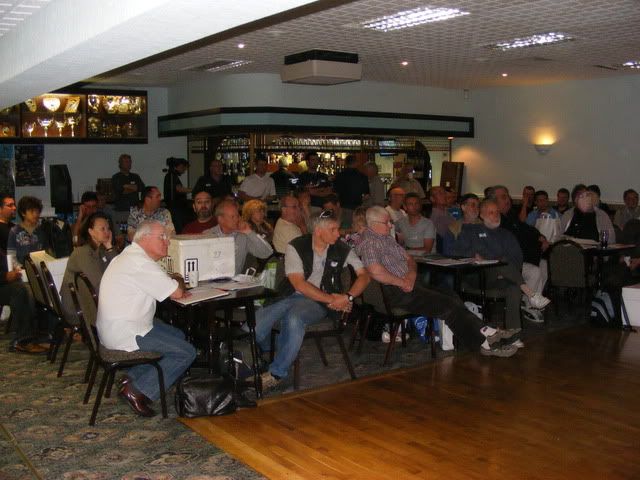 The day started early with auction booking in at 9am, after this we had a very quick vote on a change to the BCA constitution which allows us now to charge a much lower subscription rate for online memberships, with this business out of the way we could get on with the show and Dr Anton Lamboj started the day with a facinating and very enjoyable description of his trip, Anton is as much a aquarist as he is scientist so we got a inside view of a beautiful country from someone who is a very committed aquarist/breeder/collector and scientist, i spoke with Anton several times and found him to be a very polite and interesting person, every single person in the room enjoyed his talk and the room was spellbound while watching the beautiful fish that Anton found on his trip..Im sure im not the only one who has now added Gabon as a place that they would love to visit!
A happy Anton, moments after admiring the BCA picture of the month competition.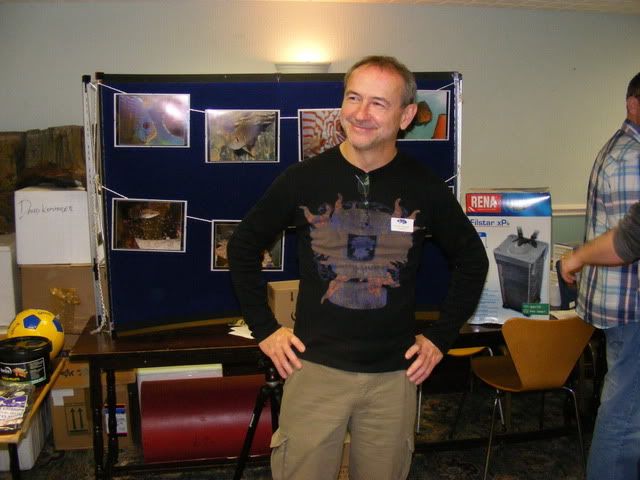 After Antons excellent lecture we had a short break while the votes were counted for the all new Picture of the month competition, members were invited to vote on a selection of 8 stunning photographs which were displayed on a proffessional stand, the voting ran extremely close and embasingly for me the winning picture was my own photograph of a female Crenichichla regani with her newly freeswimming fry! i was both suprised and flattered and amazed to be presented with aBrand new top of the range Rena external filter!! Thanks go to Peter Burgess for supplying such a wonderful prize, and to Andrew who put the whole thing together!!
We were then treated to a short 15 minute presentation from the British livebearer association on conservation projects in two parts of the world, it proved to me that several clubs can work together in harmony and compliment each other, we at the BCA would like to create a atmosphere where all clubs can mingle as one and help each other, hopefully our relationship with the BLA and other clubs can blossom from here?
After a short lunch break we then welcomed with open arms Mr David hulse from Tetra, David is a old hand at lecturing and his experience showed through!! his presentation on aquatic parasites was both riviting and facinating, David gave us the full overview of what they are, how they live, how they effect our fish and how we can combat them in the aquarium, i think most people would of come away from todays event a better and more knowlegable fishkeeper!!
David from Tetra UK posing with one of our younger members showing off his new Tetra football..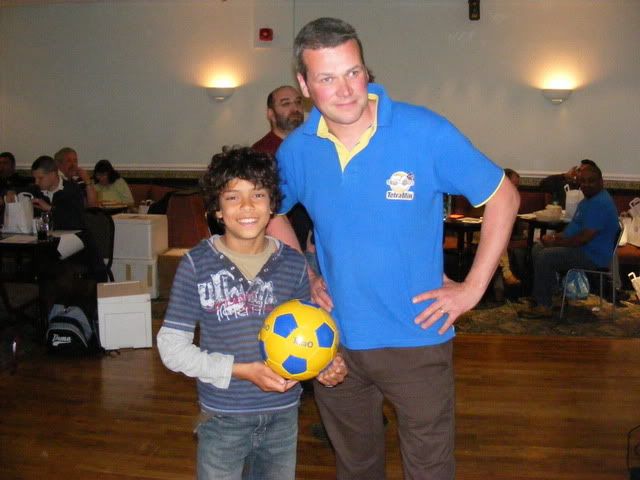 This years raffle was very well suported by our kind sponsors and almost everyone went home with at least 1 prize, many people claimed more than one with several winning 4 or 5 times.. All for the price of a ticket.
Deserving special mention was the winner of the star prize of the brand new Juwel vision 260 tank and stand!! this was won by the very pleasant and polite Mr Ashok Goultam from Leicester, i last saw him pulling out of the carpark with a huge grin on his face :clap: :clap: a well deserved winner and all round top bloke, well done Ashok!!
Now with the lectures out of the way the fish could be brought out and the auction started, the event was well supported with over 380 lots booked in, unfortunately several lots of fish were not available on the day but it was still a busy auction with lots of exciting bidding wars and many people bidding frantically for lots of beautiful fish, auctioneer for the day was the very experienced Bob Barnes and he handled things excellently and was supported by Andrew Wood, Trevor Greenfield and a team of young and very enthusiastic runners!! everything went smoothly and both sellers and buyers came away happy.
Bob and the team handling just one of the 380 available lots..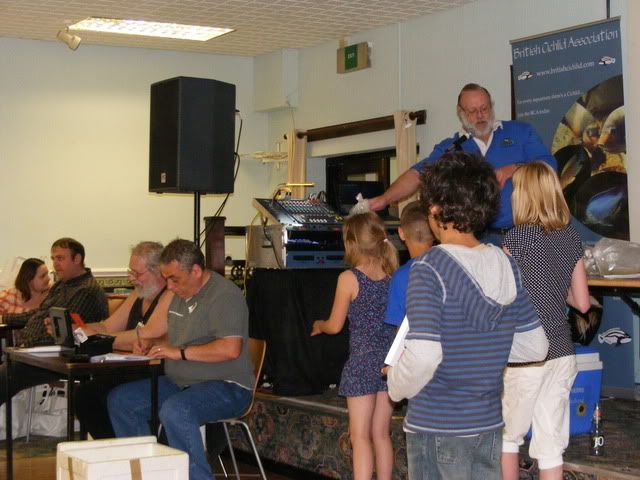 Its been a very long day so i will now sign off and let the members do the talking, what did you buy, what were your opinions? lets hear your opinions if you travelled to todays convention!!