Hello
Long time fishkeeper but new to dwarf cichlids. LFS has A. agassizii and A.cacatuoides (double red) So an opportunity for me to get some but I've come here because I want them to thrive and give them the best home and to get advice as to what to do. Here is the situation. I have two tanks that have been cycled for years and now just have enough fauna to keep the tanks well cycled.
Tank 1
15 gallon (24x12 footprint)
5 endlers
low light planted
pool filter sand
Tank 2
180L (39x16 footprint)
5 threadfin rainbows
2x Peacock Gudgeon
1 betta
1 bristlenose pleco
black seachem sand
medium light planted
CO2 injection (green drop checker lowers ph to about 6.5.....ish degassed tap water is about 7.5)
I can move all my fish around save for the pleco because I don't think I will be able to net him in a planted tank.
So looking for advice. Which tank should I use and how much to stock? My initial thoughts are to either do a pair in the 15G or a trio in the the 180L but I am looking for advice from the community as to what you would do and why.
What is your preference agassizii or cacatuoides?
Pictures of the tanks.
15G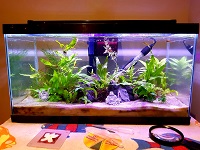 180L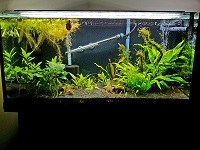 Last edited: